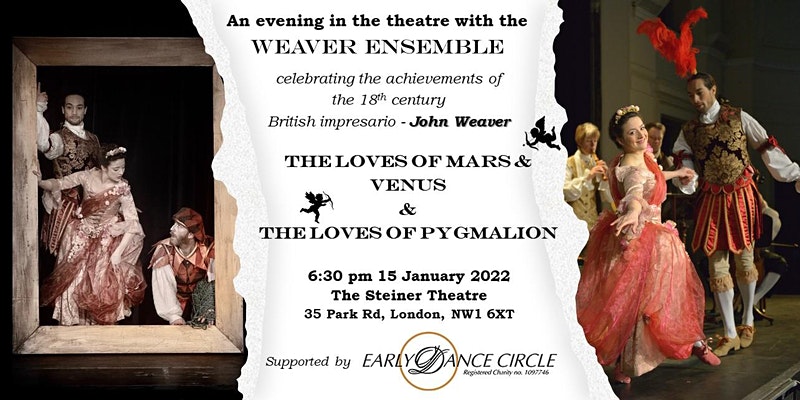 The Weaver Ensemble recreate an evening of music, song & dance from the London stage of the 1700s
About this event
The Weaver Ensemble, led by Evelyn Nallen, offers an evening of music, song, and dance from the London stage of the 1700s, focused on the works of the celebrated English dancer, choreographer, and scholar, John Weaver, 1673-1760. His seminal work, The Loves of Mars and Venus, is sometimes called the first modern ballet because he told his story through dance, music and mime. The first performance was on March 2nd 1717 at the Drury Lane Theatre. The Weaver Ensemble productions are not reconstructions, but celebrate Weaver's contribution to the history of dance. They are devised by Evelyn Nallen and Stephen Wyatt, and scripted by Stephen Wyatt, with a performing team of an actor, two dancers, and four on-stage musicians. Productions use original 18th – century choreographies with additional material choreographed by Gilles Poirier and Romain Arreghini. This is not the work of John Weaver, but offers a glimpse into the pleasure early dance can offer modern audiences.
ACT 1 The Loves of Mars & Venus
This tells the story of John Weaver's struggle to create a proper dance drama. The magic and excitement of early 18th-century theatre are evoked by an actor portraying Weaver and his stage character Vulcan, the husband of Venus, and baroque dancers playing Venus and Mars. Weaver's choice of music is lost. This production uses music by Lully, Purcell, Croft, Paisible, Eccles and Jeremiah Clark.
ACT 2 The Loves of Pygmalion
In this sequel, the Weaver Ensemble reimagines the Pygmalion story to encompass John Weaver's 'passions and affections' expressed through dance, using choreographies of the day, with the occasional song! Music by Lully and Rameau.